February 22, 2021 to February 26, 2021
8:00 am / 12:00 pm
https://erc.ucla.edu/course/fundaworksafety/
FEBRUARY 2021  – This course provides intensive instruction on the basic skills needed to manage a safety program for your company. Designed for all employees and managers at all levels of your organization, this course is intended as an overview of the hazards a worker may encounter on a job site while emphasizing hazard identification, avoidance, control, and injury and illness prevention.
OSHA GENERAL INDUSTRY 10-HOUR CARD
While you are learning safety management techniques and what is required of an employer to comply with OSHA, this program is designed so that you will also obtain your OSHA GENERAL INDUSTRY 10-HOUR CARD. This is considered added value for some organizations while others require it as a condition of employment.
Participants must attend all sessions and pass a written exam to receive a certificate and an OSHA General Industry 10-Hour card.
Now more than ever employers are requiring employees, managers and supervisors to receive the appropriate training in order to ensure further hazard recognition, compliance and knowledge of all aspects of safety and health that affect their daily work activities. It is typical for many California employers to require employees to obtain an OSHA card as a condition of employment.
This is a LIVE online General Industry OSHA Card course with the opportunity to ask for clarifications and questions, as opposed to a pre-recorded course. This is a General Industry Card Certification that has been approved to be taught online.
It will be mandatory that your front screen on Zoom is turned on during the entire duration to ensure your participation and engagement during the certification training.
Learning Objectives
At the end of the training, participants will know how to:
Easily make sense of the current health and safety laws that apply to job sites while running a successful Injury and Illness Prevention Program.
Discuss techniques to improve management commitment and employee involvement as the basis for an effective Safety and Health Program.
Choose and develop at least two different techniques for hazard analysis and identification at the job sites
Job Hazard Analysis (JHAs)
Pre-job hazard analysis
Personal Protective Equipment Hazard Assessment Certification (Required by California Law)
Develop step-by-step an Injury and Illness Prevention Program
Name 3 basic elements of your organization's Injury and Illness Prevention Program
Identify 3 different common hazard on job sites and the controls you may put in place to abate such hazards
Use techniques to remove barriers to promote a safe and healthy environment (language, culture literacy and skill levels)
Name three techniques to overcome cultural and/or language barriers
Conduct effective Incident Investigation
Identify the root cause(s) in a case scenario
Identify and adopt injury prevention controls that work
This course is a Core Requirement for the SCERC Workplace Safety and Health Professional Certificate.
Who Should Attend?
Health and Safety Professionals, Industrial Hygienists, Safety Engineers, Labor/Management Health and Safety Committee Members, Supervisors, Union representatives, Risk Managers, Loss Control Specialists. Ideal candidates have responsibilities that include safety from firms that recognize safety as a paramount function. It is designed for entry-level industrial hygienists/technicians, safety professionals, safety coordinators, managers, supervisors or other entry-level employees who may safety and health or industrial hygiene responsibilities.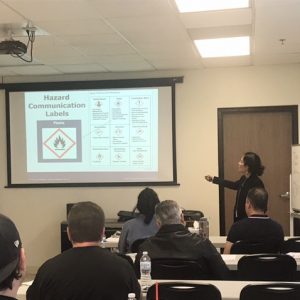 Agenda *
Topics
Requirements for OSHA 10-Hour card
Introduction to OSHA
Elements of an Effective Safety and Health Program
The Required Cal/OSHA Injury and Illness Prevention Program
Electrical Safety
Walking and Working Surfaces
Exit Routes
Emergency Action Plans
Fire Prevention Plans
Fire Protection
Materials Handling and Back Injury Prevention
Flammable and Combustible Liquids
Personal Protective Equipment (PPE)
Machine Guarding
Hazard Communication
Bloodborne Pathogens
Plus:
Incident Investigation/ Root Cause Analysis / The Fundamentals of How to Effectively Investigate Incidents
The basics of Repetitive Motion Injury Prevention
The required OSHA logs. The NEW requirement for electronic submission of the summary log.
Recording and reporting to OSHA and how to use the logs as a tool for injury and illness prevention
and more
*Subject to modification: Although some of these topics are part of the mandated curriculum to obtain a 10-hour OSHA card, some elective topics can be customized to your organization's needs. Email or call us if you wish to have this course customized and brought to your physical location.
Other Registration Options
Register by phone: 310 206-2304
Mail in: 650 Charles E. Young Dr. South 61-279 Los Angeles, CA 90095
Payment Terms
(rev. 11/6/09):
Substitutions may be made without additional charge. Cancellations must be in writing. Refund schedule:
Cancellation 15 or more business days before the class 80% of registration fee
Cancellation 7-14 business days before the class 50%
Cancellation less than 7 days before the class and "no shows" No refund
If course materials such as books have been sent to course participants in advance, the cost of that material will be subtracted from the refund.
UCLA reserves the right to postpone an offering 7 days prior to the course date should minimum enrollment requirements not be met. If a program is canceled, you will be notified and your registration fee will be refunded in full, less the cost of course materials sent in advance if they are not returned in the condition in which they were received. The liability of UCLA is limited to the course fee.